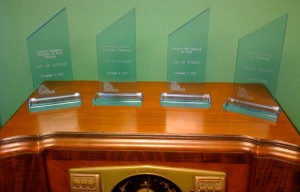 As previously posted, Ask an Atheist won four awards at the 2010 SCAN Awards event, held last evening at the Rainer Valley Community Center.
The event was attended by a lot of people, including nearly the entire cast and crew of Ask an Atheist.  The event featured musical acts by local talent including: a gospel choir who did not appear to enjoy our success, a solo acoustic folk act, and some traditional Indian music from the host of another show on SCAN, 'Bandish'.
Our success at the event turned us into a bit of a joke about half-way through the show, with Warren Etheredge of 'The High Bar' asking if our success was part of "God's plan".   I had a quick chat with Warren, and I wouldn't be surprised if I saw him around Ask an Atheist in the near future.
Ask an Atheist won awards in each of the four categories it secured a nomination in:
Favorite Religious, Spiritual, or Faith Program
Favorite Locally Produced Program
Favorite New Program of 2010
Favorite Studio/Live Program
A huge, industrial shipment of thanks to the cast and crew of Ask an Atheist, for making the show worth watching and worth voting for.
Also, some satellite-deployed thanks to the viewers of the show, both for watching and for voting!
---
If you would like to watch the awards ceremony, the event will be aired on SCAN this week, and we'll post more information when we have it.   We'll also see about including clips of the event on this website as soon as we have access to the video.
Also, a console radio turns out to be a great place to photograph awards.