Ask An Atheist is a weekly radio show dedicated to atheism, skepticism, Secular Humanism, and issues of separation of church and state. AaA was conceived in 2010 by community members Mike Gillis, Casey Doran, Sam Mulvey, and Jeremy Whitman. Each brought different talents to the project, which quickly attracted volunteers from across three counties.
The first episode of AaA aired in June 2011 on SCAN TV, a public access channel based in Seattle, and a podcast feed soon followed. In its 6-month tenure as a TV show, AaA garnered phone calls from three continents and won 4 viewer choice awards, including one for "Best Spiritual or Religious Programming."
After SCAN TV radically changed due to funding cuts, AaA transitioned to radio in January 2012. For two years, AaA broadcast weekly from KLAY studios in Lakewood, Washington. In spring of 2014 AaA was pleased to announce that KOWA in Olympia, WA and WPRR in Grand Rapids, MI now carry Ask An Atheist.
Executive Producer Sam Mulvey continues to work alongside a group of talented volunteer hosts, production assistants, and writers to bring the voices and stories of freethinkers to the airwaves. Nearly as important as the media itself is our growing community of nonbelievers. To that end, the crew of AaA frequently hosts post-show meetup events in the Tacoma area.
For more information, check out the
FAQ
.
Cast
Production Team

Sam Mulvey
Producer
Sam makes his home in Tacoma with Becky, their two enormous cats, and a great number of electronics. An atheist grown from a long line of agnostics, Sam was shocked by poor media coverage of atheists while collaborating with co-creators Mike, Casey, and Jeremy to make Ask An Atheist a reality. Besides hosting, Sam organizes AaA events in the Tacoma area and is responsible for most of the post-production on radio episodes. He sits on the board of directors of Humanists of Washington, and is a former board member of Seattle Atheists. In his imaginary off-time, he brews beer and plays with ham radio. In the Star Trek or Star Wars dichotomy, Sam chose Babylon 5. He is a collector of vinegar varieties, vintage computers, antique radios, and propaganda. Also, Sam likes puffins.

Rebecca Friedman
Assistant Producer
Becky, our resident Spanish speaker, is a K-12 language and literacy educator. She grew up in a pluralistic Jewish household in various corners of the country. She participates in various humanistic and atheist groups in the Puget Sound, serving currently as programming director of Camp Quest Northwest and secretary for Humanists of Washington. Becky likes cooking, enjoys Dr. Who, and sometimes admits to watching the TV show Glee. She wishes she went contra dancing more often.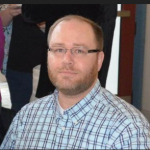 Wesley Bonetti
Assistant Producer
Wesley is a member of Kitsap Skeptics and Kitsap Atheists and Agnostics. When not contributing as a host or assistant at Ask An Atheist, he records
The Atheist Nomads
podcast. Forced out of his childhood church as the product of divorced parents, Wes settled on atheism after much adolescent searching. Wes enjoys RC cars, stunt kites, and The Fifth Element.

Meredith Taylor
Assistant Producer
Meredith is an International Human of Mystery.
Cast

Dave Brouillette
Dave Brouillette serves as occasional writer and cast member and also blogs at
The Atheist Soundingboard
. Dave really really really likes The Seattle Sounders. He was the Head Writer for Ask an Atheist until 2016, and when he's not on Ask an Atheist he's on
Hands Free Football
.
Dan Lombardo
Dan contributes "FOR SCIENCE!" segments on Ask An Atheist and occasionally co-hosts as well. He has a bachelors in biology with specific interests in marine ecology and corvid behavior, and loves SCUBA diving. Dan was a merchant mariner for almost a decade, working winters as an able-bodied seaman and summers as a naturalist for whale and sea-life watching excursions in the Salish Sea. His varied background includes blacksmithing, custom knife making, and leatherwork. He is married to Bridget Lombardo.

Jeremy Whitman
Jeremy is the ginger-haired comic you'll see hanging out with AaA folks. Having only been exposed to revival prayer and Amy Grant while growing up in a strict Christian household, he discovered gangsta rap as a teen and ever since then has been waiting for his big break out of the comedy circuit and into rap as an adjunct member of Wu Tang Clan. Check out this AaA co-creator's stuff at
Whitman's Mind
.

Ranjan Banerji
Ranjan uses his background in sociology and learning sciences as a business consultant in the Seattle area, where he lives with his partner, their step-kids, and corgi. If the Ask An Atheist crew believed in daemons, we'd probably conclude that Ranjan's spirit animal is Aaron Sorkin's Sam Seaborn.
Rebecca Vitsmun
After admitting on CNN that she did not, in fact, "thank the Lord" for having spared her and her child from a deadly tornado that destroyed swaths of her hometown, Becca decided she was done living in Tornado Alley. She moved to the Puget Sound area with her family and has added to the AaA conversation since moving in late 2013. Becca has been determined to use her experience to assist in building volunteer infrastructure in secular community. She is currently assisting in the development of the Humanist Service Corps with the Foundation Beyond Belief.

Bridget Lombardo
Bridget helped produce all of our ASL-interpretation episodes by conducting instant interpretation in the radio studio. She loves sea otters, Tim Minchin, and Camp Quest.
Alumni

Mike Gillis
A co-host and writer for Ask an Atheist, Mike is also one of the show's co-creators. He's a former board member of Seattle Atheists, and was influenced by the Atheist Experience and the writings of Sam Harris and Christopher Hitchens, to become a activist atheist and get involved in the Atheist Visibility Movement. He currently produces and hosts two podcasts.
Mike and Pól Save the Universe!
and
Radio vs. the Martians!
In 2009, he was
declared an interesting person by the least interesting magazine about Seattle.
In his spare time, Mike enjoys reading weird stuff (ie, cult leaders, conspiracy theories and pseudoscience) He is also an avid comic book and science fiction geek. His favorite band is Queen. His favorite sci-fi franchise is the Planet of the Apes.
His favorite superhero is Aquaman.
He met Leonard Nimoy once. That was awesome.

Casey Doran
Casey Doran (otherwise known as ಠ_ಠ) is co-creator, former producer, and occasional host for Ask an Atheist, but a copy-writer and digital video pipeline manager professionally. His association with the show began with Seattle Atheists, the local non-profit organization where he met both Sam Mulvey and Mike Gillis. He has a personal interest in, of course, atheist activism as well as history (specifically 19th Century Japanese and American history), philosophy (epistemology and critical theory) and film culture. A video of his lecture on Epistemology can be seen
here
.

Sharon Zolnowsky
Sharon began as a production assistant in January, 2014 after moving to the Pacific Northwest. In addition to being a particularly insistent studio organizer, she makes fancy quilts.

Nick Kennedy
He likes three-part harmonies, Rickenbacker guitars, Garrison Keillor, dark beer, baby kitties, interesting bridges, twisty-ass mountain roads, karaoke, Thai food, and the Oxford comma. He doesn't like disease, misery, famine, death, destruction, war, the Westboro Baptist Church, or N********k. He invented Tuesday, he put the "bomp" in the "bomp ba-bomp ba-bomp," he beat up Chuck Norris while calculating the exact mass of the Higgs boson, he's more interesting than that guy on the Dos Equis commercials, he can spit in a cup and water Central Park, and you're welcome.

Mike Warbington
Mike Warbington has a background in philosophy.

Bob Seidensticker
"I've lived in the Seattle area with my family for about 20 years. My young-earth creationist cousin turned me from an agnostic into an atheist. I just started thinking and couldn't stop. I like to attend creationist meetings and have been known to carry an atheist sign at Westlake to respond to the Christian signs there. In the summer of 2011, I attended an academy of Christian apologetics (two weeks of my life that I'll never get back …)" Catch Bob commenting on issues of apologetics (intellectual defenses of Christianity) and biblical rapture in his perfect NPR-esque voice. He has a great blog called
Galileo Unchained
.

Libbie Grant
Libbie was born in rural Idaho and was raised in a large and very traditional Latter-Day Saint (Mormon) family. When her parents divorced she moved with her mother to the Seattle area, and her life became gradually more secular. Eventually, she realized she is an atheist and has been active in the atheism community ever since. She writes for a living and lives in Seattle. Outside of the show and her writing career, her interests include painting, birding, backpacking, consuming coffee, and wearing pretty dresses and fancy shoes. Listen to Libbie's colorful quips in the episode archive, and read her well crafted intellectual rantings on the blog.

Rich Lyons
Rich Lyons is a former United Pentecostal Church pastor with 20 years in the ministry. In 2004 he left that ministry and began a deconversion journey that took him into the depths of depression and even contemplating suicide. With professional help and lots of work, he is now happy in life as an editor at a news radio station in Seattle, and hosts a podcast called
Living After Faith
. The focus of this outreach is to help people come to a place of peace and happiness after deconverting from a life of faith, to a life of reason.

Beth Lehman
Beth served as assistant producer in our transition to radio, and wrote on the Ask An Atheist blog. She was raised in a secular home by a passionately atheist father and a passionately apathist mother. She has two children, a cat who she suspects only sticks around so that it might have something to eat when she dies, and many pairs of brightly colored shoes. Besides atheism, her interests include Gary Oldman, Neon Genesis Evangelion, and Indian food.

Scott Leopold
Scott is the hardest swimming, longest driving, atheist Jew in the Northwest. Affectionately dubbed BloodFish by AaA's own Jeremy Whitman, Scott dutifully prepares for marathon swims across Lake Washington for the benefit of Puget Sound Blood Center. Scott donates blood as often as medically permitted, all without god telling him to. When he's not leaking the red stuff, he's vociferously advocating for the rights of those who do–naturally–with pro-choice orgs around the Northwest. Scott likes to comment on issues of separation of church and state as well as the lunacy behind the intelligent design movement. He also enjoys BBQ short ribs.

Case
Ask an Atheist's topic host Case specializes in teh skepticism— particularly psychics, ghosts, and 9/11. Born and raised a latent agnostic-leaning Catholic, he likely would have stayed way if he didn't stumble upon a Pentecostal Church that claimed to speak in tongues, prophecy and faith heal. After a stint as a born again Christian there, he found himself on the outs after challenging basic premises of their alleged spiritual gifts. After years of debates with friends and family trying to stop him from 'backsliding', he finally became an atheist in 1996. Eventually, he found his way to Seattle's secular scene and worked his way through the ranks to eventually serve as President of Seattle Atheists for two years. He is the organizer of both the Seattle Skeptics and Seattle Atheists/Agnostics Meetup groups and wishes he could find more ways to drop his lobster "Bildeberg" into the conversation.

Chad Cassady
Chad is a beatboxer, LEGO artist, and guitarist. He met Sam and Becky as a failed Jehovah's Witness and made his way to atheism when the couple accidentally gave him a ride to a Seattle streetfair where they were staffing a humanist booth. Having already done some reading about atheism and being in a sort of existential tough spot, he opted to read Hitchens' God Is Not Great cover-to-cover. Chad calls himself an atheist unless he feels put on the spot, in which case he'll sooner use words like "humanist" than "agnostic." He spends most of his time working on music or his LEGO work, and generally just trying to be a chill dude, but he believes something oughta be said about a few of the things he's been through, and he isn't afraid to say it on the radio.

Darren Garvin
Darren, a former Royal Ranger and failed leap of faith taker, meandered about until 1998 when he began teaching at Northside Christian Academy just outside of Stone Mountain, GA. After 20+ years of trying to be a believer and 2 years of immersion in the bible at NCA, he gave up trying to believe in 2000. He now lives a happy, religion-free life in Tacoma. His pastimes include meeting with area religious leaders for coffee and attending Sunday morning services. Really.

Deanna Joy Lyons
Deanna's "day job" is being a savvy nighttime traffic reporter for wee-hour truckers and shift-work commuters. She has lent that same voice to AaA, as well as to the
Living After Faith
podcast she produces with partner Rich Lyons when not chilling with the Tacoma homies or cheering on the Rat City Rollergirls.

Jerry Schiffelbein
Known locally as "The Hardest Working Man in Atheism," Jerry Schiffelbein has served on the boards of Humanists of Washington, Seattle Atheists, the Greater Seattle Chapter of Americans United for the Separation of Church and State, Camp Quest, and the University of Washington's Secular Student Union. He also organizes several Meetup groups, including Secular Seattle, Heathens Do It Better, and the Northwest Freethought Coalition Events Meetup. His day job consists of developing database projects with various vendors around the area, mostly at Microsoft. In his spare time, he enjoys racquetball, Wallyball, unicycling, Texas Hold 'em poker, and model railroading.

Joe Distefano
Joe is a software engineer in Boeing flight test and lives in Seattle with his wonderful, godless wife and two little girls. He has 12 years of Catholic brainwashing school to thank for nearly convincing him to break up with his then-future wife in 2004 because she didn't drink of the holy Kool-Aid. God willing, a little trip to the religious history section at Barnes & Noble saved their relationship. This eventually led to a deeper investigation of theism, most notably when he read The God Delusion by Richard Dawkins and listened to a ridiculous number of theist-atheist debates on YouTube. He joined Seattle Atheists a few years ago. Joe is now happier than ever and proud to call himself a humanist and an atheist.

Keight Fahr
Also known as YouTube's BionicDance, occacional guest-host Keight treks down from Seattle to lend her LiveBlogging and creative graphical artistry to AaA's endeavors. If she's not doing any of the above, you'll likely find her rollerblading likes it's 1989. She also works on her original webcomic
The Adventures of Kanira Baxter
.