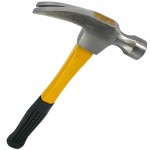 Here, for Beth, is a hammer.
This is the hammer that Beth is to hit me with.   Why does she get to hit me with a hammer?   Because I neglected to include her as a producer in the credits.
It was late, I was tired, I had a sneaking suspicion that I was forgetting something, but there wasn't anyone around to check it with.  And I mean anyone– it was 5AM and I was the only one in the entire building.  She really and truly is a producer, and does a lot for the show.   Whenever I pull some junk like this I'm afraid that someone's going to make some social hay out of it.
This isn't one of those things.   I am merely stupid.
So, for Beth, a hammer.