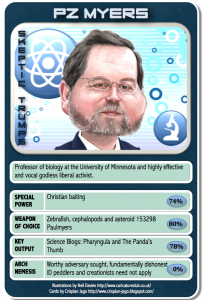 Hello! Beth here, and I'm in Oregon this weekend to attend the Northwest Freethought Conference.
I'm not what one might call a social butterfly, so while I'm trying to mingle a bit, I'm more focused on a few discussions and the keynote speaker of the evening, P.Z. Myers.
I'll be blogging about the conference throughout the day as I am able, but I am especially interested in "Christian" nation: American non-history with Steven Green – a Professor of Constitutional Law and History and director of the interdisciplinary Center for Religion, Law and Democracy at Willamette University in Salem.
I don't have much to say yet – we just registered and got our name tags (and experienced the first glitch of the trip when they didn't have any record of my friend on their lists and had to make her a handmade tag after I assured them I most certainly paid for her to be there) and are still settling in.
I'll be back online in a few.  Until then – let me know if anyone has a question they would like me to ask PZ.  If I find it interesting and I can, I'll ask him.  😀