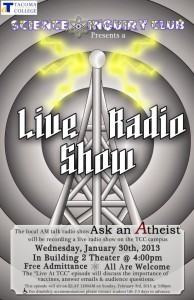 Join Ask an Atheist as we record an episode in front of an audience this Wednesday, January 30th at 4:00 PM in the Theater at Tacoma Community College!
On this episode, we'll cover some current events, talk about some of the interesting emails we've received in the light of our first vaccination episode, and then taking questions from the audience!
This is the second time we've recorded in front of an audience, and we really had fun doing it.   This event is in coordination with the TCC Science and Inquiry club. There's no charge for attendance, and there's the possibility of extra credit for TCC students.