Mike here. To help pay for Season 4 of Ask an Atheist, I am doing something very difficult and selling two of my favorite possessions in two limited-time-only eBay auctions. Every dime made from these auctions will go to benefit the show, to buy airtime and to replace our cameras.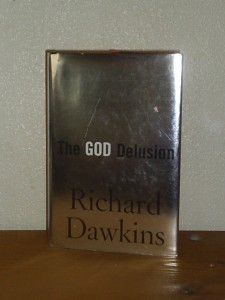 First up is my prized autographed copy of the God Delusion by Professor Richard Dawkins. I got this signed in 2009 when Professor Dawkins spoke at the University of Washington to promote his then-brand new book, "The Greatest Show on Earth." I really don't want to give this up, but as much as this book means to me, the show means more. Please bid high and bid often.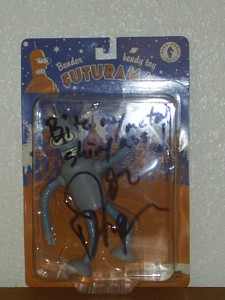 Next is a bendy figure of Futurama's Bender, the alcoholic robot from the recently revived series, autographed the actor who provides his voice, John DiMaggio. The signing reads, "Bite my Shiny Metal Ass!" I had this figure signed at the 2001 San Diego Comic Con.
These auctions will only be active for the next three days!
Please consider making a bid and helping our show! Onward to season 4!