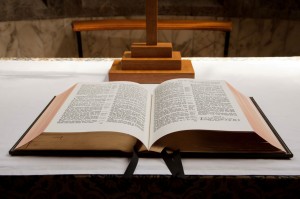 The last episode of Ask an Atheist unveiled a new – and possibly weekly – segment we like to call "Scripture Says…What?", where we look at the funniest, scariest and just plain weirdest passages in holy texts like the Bible, the Qur'an, the Bhagavad Gita, or even Dianetics.
Our first passage was from the Christian Holy Bible, New International Version:
11 If two men are fighting and the wife of one of them comes to rescue her husband from his assailant, and she reaches out and seizes him by his private parts, 12 you shall cut off her hand. Show her no pity. — Deuteronomy 25:11-12
We're not just doing this to point and giggle — though, to be perfectly honest, that is part of it. We're also highlighting how many religious believers treat their holy books like software license agreements, and just click "I Agree" without reading what they're agreeing to. Books often held up as beacons of truth, wisdom and beauty have scenes in them straight out of a Quentin Tarantino movie.
Let's face it. There's a lot of odd stuff in these books, and as often as we can find it, we'll be sharing it on our show. If you have a passage of a holy text that you think is humorous, bizarre or mind-boggling and want us to read it on the air, please send the passage along with chapter and verse to us by email.
Just click the big red button on our main page and don't forget to tell your name and home town. We'll check to make sure it's real and just might read it on our next episode!