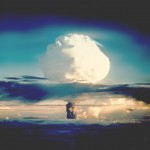 As atheists and skeptics, we like to talk about how skepticism can serve us personally, like saving us from bad arguments, cults, and the occasional huckster.  But what fewer people realize is that skepticism, in the broad form, has saved us from having to live out the plot to the Fallout video games.  Or Threads, if we're less lucky.
Let's think about September 26th, 1983.   The Doomsday Clock is at 11:56 PM.  No one has yet demanded that walls be torn down, and Soviet glasnost is still a gedankenexperiment.    The USSR is under fire internationally for shooting down a Korean Air Lines 747 which had strayed into Soviet airspace.  NATO is preparing for a military exercise involving a DEFCON 1 scenario in Western Europe, Able Archer, within the context of a PSYOP operation by the United States.   Tensions, to say the least, are high.
(I am five years old.   Adults are failing to hide their terror.   This was when I learned about "duck and cover" for the first time, but I was told it wouldn't really help.  I didn't really get it.   I was fishing crayfish out of the creek, building models of portable video games out of lego, computers out of paper, and absolutely loved my Dirge Transformer, thinking it was Starscream.)
Stanislav Petrov, a Lieutenant Colonel of the Soviet Air Defense Forces, is a duty officer at the Oko satellite-based nuclear early warning program, near Moscow.  On this day, the early warning systems detect a launch of Minuteman missiles from US territory– a well considered opening move in a Global Thermonuclear War.
Under the strictures of the program, if the system had detected an incoming US nuclear attack, Soviet policy was to launch missiles before the US attack landed.   From a tactical and ideological perspective, this made sense.  But the end result was commonly believed to be the end of human civilization as we knew it.
Instead, Lt. Col. Petrov noticed that the early warning system only detected five missiles from the U.S.   Petrov was told an initial first strike would be an all out strike, using the majority of U.S. nuclear forces.  In 1983, five ICBMs hardly counted as an all out strike by the U.S., so Petrov doubted.
As a result, the "impending nuclear attack" was never passed on to the Soviet command for action, and no action was taken.   At the end of Able Archer, tensions between NATO and Warsaw Pact states lessened significantly.   Within years, the USSR began Perestroika, the U.S. softened its approach to communism, and the cold war ended with the dissolution of the USSR and the Warsaw Pact.
For Petrov's part, he was initially praised for his discretion, but was then sidelined for his inability to follow proper military protocol, where proper protocol may very well have led to the end of human civilization.   He ended his career the way most people did.
Stanislav Yevgrafovich Petrov is due to receive the Dresden Peace Prize this Sunday for his part in averting a nuclear war.  He's  a previously unsung hero whose eddas are finally being composed.   And that is no bad thing.  But to me, this is a story of the victory and importance of skepticism in a world where ideology expects and demands literally apocalyptic behavior from one's opponents.