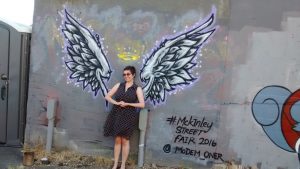 Continuing our discussion about the destruction of art in Tacoma by zealotry, we talk with Amy McBride, the Arts Administrator for the City of Tacoma.   We also talk about art programs in general in the city, as Sam tries to get people to move here.    In the second segment, Sam talks with Mike, Becky, and Dave about current events.
—
News
Pictures
McKinley Street Fair
Here are some pictures of the work being done at the McKinley St. Fair.
—
Other Art in Tacoma
This is a mural in protest of a privately run prison nearby.   Click on the images to get a good look.
—