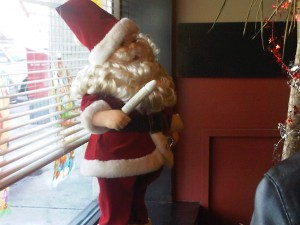 First of all – Happy Holidays! I love this time of year – especially how accidentally inappropriate the traditional imagery can be.
My name is Beth and I've been involved with the show for a while behind the scenes, but I'm going to be doing more and more as we make the transition from SCAN to our new home on KLAYam, including posting a bit more content here on the site that is atheist related though not necessarily show related. My opinions aren't representative of everyone on the show, of course, and if I post something that seems off feel free to let me know.
Things to look for in the future include news stories that might make you laugh or cringe, interviews with our crew members who help us create such a high quality show but who you might otherwise never be aware of, opinion pieces on a whole range of issues, comics, skits, songs, and anything else our amazingly talented crew happens to produce.
One thing we're always open to is ideas and suggestions, so please let us know what you want to see and what you'd like to see more of and we will aim to please. Thanks again for all of your support and please, if you can, consider making a donation so we can keep on keeping on.