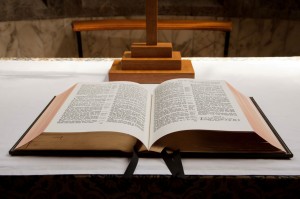 In this week's look at the funny, the scary and just plain weird passages in humanity's holy text, is a return to the Good Book and its angry desert deity. This passage this week comes from listener Brad from Japan. from the Bible,  Malachi 2:1-3, New International Version:
 1 "And now, you priests, this warning is for you. 2 If you do not listen, and if you do not resolve to honor my name," says the LORD Almighty, "I will send a curse on you, and I will curse your blessings. Yes, I have already cursed them, because you have not resolved to honor me.  3 "Because of you I will rebuke your descendants[a]; I will smear on your faces the dung from your festival sacrifices, and you will be carried off with it.
Listen here, priests! You either remember the boss and kiss his ass, or he'll rub poop on your faces! So there!
If you have a passage of holy scripture that you find funny, scary or just plain weird, send it our way. Whether it's from the Bible, the Qur'an, the Bhagavad Gita, the Book of Mormon, or even Dianetics, click on the big, red, shiny button at the top of the page and we may even read it on the show!