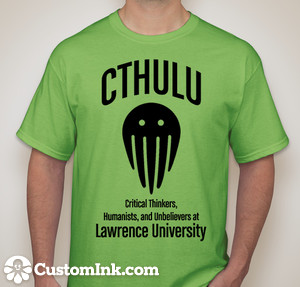 Thanks to a Friendly Atheist post, I immediately ordered a t-shirt from the Critical Thinkers, Humanists & Unbeleivers at Lawrence University, a.k.a. CTHULU.
This is one of the most fun T-Shirts I've seen since the "Rapture Relief" t-shirts Seattle Atheists did back during the Harold Camping days.
It would have been perfect to mention when we started talking about H.P. Lovecraft!   Seriously!
But, I got too into the discussion and forgot– a rookie mistake.
But by all means, order one of these shirts, and check out their facebook page. And expect to hear from them soon!