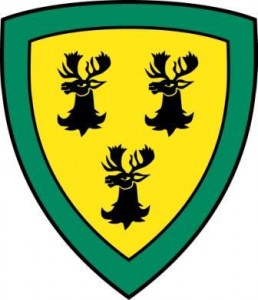 Let us get the facts out of the way, right away:  Shelley Segal will be playing at Doyle's Public House this weekend, Sunday April 14th.  We'll be meeting up at 5:00 PM, there's no cover now, and it's a 21+ show.   Be there for good music and good times!
(TL;DR: Go to this show. We need to show Tacoma that the atheist community matters.)
And now, the hard part:
You'll notice that this is a change from what we announced on yesterday's show.  We had originally booked a coffee and ale shop called Anthem in the middle of downtown Tacoma.  It was a new venue (for us), the staff was incredibly friendly, and it looked like the perfect all ages venue for a show like this.   We discussed doing the event there, and they were on board.
That fell apart this morning, when I received an email from the booking folks.  It was a polite, professional email, but the intent was very clear.   I'll quote the relevant part:
 This isn't something that we feel comfortable promoting or hosting because it doesn't align with what we believe and stand for.
Anthem Beverage & Bistro, Tacoma
Additionally, the CC field included an address at "Eternity Bible College," something that wasn't in the original thread.  So, we we've been booted from the venue, and they wanted us to know why.
We'd been working with Anthem  for a couple weeks by this point.  The fact that we're an atheist radio show and that our musical act was also an atheist activist was not hidden from the management or the staff in our communications.   We told them about the radio show and the website.    We encouraged them to look into it.   Even our email addresses come from "askanatheist.tv" when we book events, and our signatures reflect that.
When booking events, we do this intentionally.  We believe that businesses have the right to say no and to choose what sort of groups and people they do business with.   If a business says no (and many have) we do not inquire why– we respect their wishes and move on.   But that's not what happened here.   We contacted the venue, told them who we were and what we wanted to do.   They agreed, booked the event, and started talking about details.   Then, out of the blue, we were booted with only six days to go.
If I silently changed the venue from Anthem to Doyle's, many of you would ask why and assume the worst.   After all, this is something we've experienced before.
I would be remiss in my duties as an activist if I did not inform the community.   That said, I would love to give Anthem a chance to change their minds, but the show is only six days away and I must have something booked and ready to go when Shelley arrives on Sunday.  Booking a venue in Tacoma can be difficult with even weeks advance.
So, what now?
Clearly, if the shop doesn't want to truck with the atheism community, we should not do business with them.  Not for shows, not for anything.   That said, nothing has been taken from us– they haven't taken any money from us, and fortunately we've got a friendly venue to fill in the gap.
Should we let Anthem know how we feel about it?   I don't know, so I leave that to you.   I feel like we've been treated unfairly (if professionally) by the venue, but I'm too close to it.    This is nothing like Washington United for Marriage, but it certainly feels like religious privilege on the move.
What I would like to do is pack the house.   If you're in or near the Tacoma area this Sunday, go to this show.   We've filled venues before, and I'd like to do it again.   I'd like to see as many people as I can at the Doyle's show, take some photos, and show Tacoma what Anthem missed, and how the atheism community can be an asset even if you don't agree with them.
It's a free show from now on.   But kick in anyway.
Because of the new venue, there are some changes.   First, there's no cover, as Doyle's as a no cover charge policy that I'm not going to challenge.   That said, we'll be passing the hat around for Shelley: she's travelling the country on tour right now, and expenses are expenses. We're lucky to have her in town, and I want to show our appreciation.   So please, kick $5 in the pot when you come by, and maybe buy some of her music while you're at it.
Secondly, the show is no longer all-ages.   We're looking to find another all-ages venue for a different show, but we're days away and beggars can't be choosers.
Thank You, Doyle's Public House!
Doyle's Public House has been a constant friend to Ask an Atheist, Tacoma Atheists, and the atheism community in general since we got underway here a few years ago.   When I stopped in today, I told them of my plight, and their response was: "What, they don't like the 1st Amendment?"
I have no idea of the religious or philosophical beliefs of anyone at Doyle's.   When we talk, we talk about other things; sports, trivia nights on Wednesday, politics, and other random stuff.   And you know what?  It's great.   They've been around seven years, and it's one of the best bars I've been to anywhere.  As a thank you, I'll be running our Doyle's ad for Season 12.   Not just for this weekend, but for everything else, too.
So, when you're in Tacoma, stop at Doyle's for a drink, and tell them why.