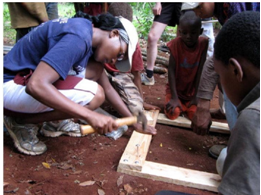 We spoke with Foundation Beyond Belief founder and director Dale McGowan back in March, and it turns out they are working on a promising new project: The Pathfinders Project!  It is envisioned as a year-long volunteer service commitment like Peace Corps or AmeriCorps, programs that many non-believers already take part in.
The initial Pathfinders will dedicate a year to clean water, human rights and construction projects, and will serve as a pilot group to evaluate programs for inclusion in a future Humanist Service Corps.
But there's only 3 days left in their IndieGoGo campaign, and they are falling short!  I've a hunch that Peggy wouldn't mind if you donated some of your extra cash not only to help keep the voice of nonbelievers in commercial media, but also to help opportunities for nonbelievers doing good works around the world!