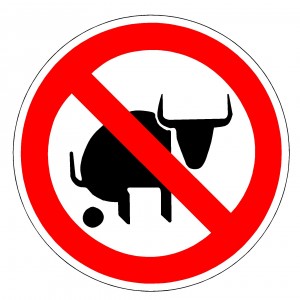 We get a lot of comments on our Facebook page from random people, and occasionally we get the odd "hit and run" theist, believer or New Agey type who wants to blow our collective minds with what they think is a debate-ending question.
Y'know, the verbal equivalent of Hulk Hogan's Big Leg Drop. The sort of brain melting stumper that would just leave us standing there with a bit of drool on our chins. But, most of the time, it's just a pointless rhetorical query with a lot of poetic pizazz and no real substance or point to it.
Basically all empty brain calories, but very pretty sounding. A bunch of words that make sense individually, but are arranged in a way that sounds profound, but has little discernable meaning. The  sort of woo-woo nonsense that Deepak Chopra peddles for a living.
Last Thursday, a rather beardy gentleman who listed the afore-mentioned Mr. Chopra as one of his "people who inspire [him] " posted the following question on our Facebook Wall:
Why don't you want God to be real?
Now this is the sort of question we get from theists a lot. Our own Deanna Joy Lyons answered his post with simple and direct honesty:
In my case, I just don't think any gods are real. After examining a lot of evidence, and histories of many religions, I have concluded that it's most likely that all gods are made up by man. In the case of the Christian god, I am very glad he is not real. That guy is a scary, violent being.
Beardy McDeepity answered:
I can't agree with the christian god either. christians today promote hate. hate never builds. it just kills. I believe Love is God.
Basically, the same sort of vague and meaningless feel goodery that goes on greeting cards, bumper stickers and Jedi dialogue bits in the Star Wars prequels. But since I like to take people at their word and give them the benefit of the doubt — though Sam thinks I'm too generous in this regard — I wanted to assume that he wanted to have a real conversation in good faith and possibly have an interesting exchange, so I answered as clearly as I could muster.
 What I want is irrelevant. The universe doesn't exist for my convenience and my wishes don't always reflect the way things actually are. Love is an emotion. And saying "God is love" is just a bumper sticker, not any sort of profound thought.

While I don't believe because there is no real evidence for the existence of any gods, I am also glad that there is no evidence.

I am glad because I don't want the universe to be a monarchy, where everything that happens is the result of the wishes of an all-powerful, all-knowing ruler and king who owns me and has a right to my life. I don't find that sort of thought comforting, I find it creepy and think it sounds a bit too much like living in North Korea.

With all of the needless suffering in the world — from childhood leukemia to airplane crashes to birth defects to earthquakes — adding an all powerful being who is choosing or allowing that sort of thing to happen, only leads one to conclude that said being is cruel and malevolent. And even to the extent that a being with power over me is intentionally hurting me to make me a better person? How is that any different from the bad guy in the "Saw" movies?

I don't want that to be true, and I'm a bit shocked that anyone would want it to be true. Thankfully, it doesn't appear to be.
Beardy McDeepity:
Anything that supports Life is profound.
Face. Palm. Though I have to admire his ability to completely ignore the points I made and narrow in on a way to respond in a completely meaningless — albeit, pretty — way. And that why I hate New Age bullshit.
While we see this show as a way to share our perspective and open a dialogue with just about anyone, we're less than interested in talking to people who, rather than discuss these topics in good faith, are more interesting in having an opening to just parrot Scripture at us or spout on meaningless and poetic mantras while ignoring everything we say.