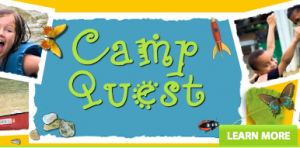 In a follow up to this week's Camp Quest episode, the national Camp Quest organization is only a few votes away from receiving a $20,000 grant from Chase Giving:
Final push – you won't hear about this again after Wednesday! Camp Quest is only 4 places away from a $20k grant from Chase! Vote on facebook, share your vote to get an extra vote, and if you're a Chase customer vote again here: www.chasegiving.com. Spread the word to your friends! Contest ends Wednesday night. We're in the home stretch; help us double our grant!
If you're a fan of Ask an Atheist, or just happened to hear this week's episode, you might have a good idea about why Camp Quest is so important to the atheism visibility movement.  All you have to do is vote!