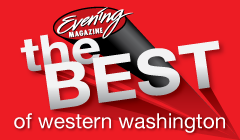 NOTE: I (Sam) am republishing this blog post, because we've only got three days left to vote, and when last we checked we were in 2nd place and up against stiff competition.  If you can, please help.   I will be linking things in this post as time goes on.
First, I want to thank all of the people who've voted for us to win Best Local Podcast so far in KING 5's Best of Western Washington Contest. Because of you, we spent over two weeks on the top of the pile in first place.
That changed today, as our biggest competitor in the contest for someone with a much more prominent and well known radio on a major affiliate, has noticed the contest and is actually putting some effort into the race. In a day, they were able to overtake our lead and are now ahead of us by a hair.
We're now in Second Place.  While we feel no shame in losing to the folks currently in First, we don't want to settle for being Flintheart Glomgold when we could be Scrooge McDuck!
UPDATE: Here are some other places where you can help get the word out!
But theirs is not an insurmountable lead! If you haven't already please, click here and take the three seconds necessary to close that gap. With fewer than 20 days remaining in open voting, it's now more important than ever to cast a ballot for Ask an Atheist.
A victory for our show would not only significantly increase our show's visibility and grow our listenership, but it would be a big win for the atheist visibility movement and atheist media inclusion, just for the amount of publicity that a win would net the show. It would be the equivalent of ten local bus ads, or 5 billboards.
If everyone who listens to our shows every week cast a vote, we'd win in a walk. Please help this happen. Vote today.
Everyone is eligible to participate! Help put us back on top! Share this post on Facebook! Forward it to your friends! Tweet us!
Thanks for everything!