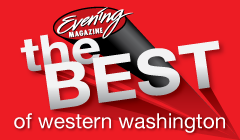 Last year, we participated in Evening Magazine's "Best of Western Washington" Awards – a local distinction that nets any winner a decent amount of positive attention. Thanks to all of you, we came in 2nd Place in a field of 47 candidates for the Best Local Podcast award.
We aim to win this year, but we need your help!
Evening Magazine, the local television show that hosts this annual contest will put a huge media spotlight on our little show if we pull off this surprise upset. Our winning is good for the show, good for local and regional atheism and good for atheist media visibility!
Thank you for all the support you've given our show in its first two years on the air and for the support you continue to give it! It only takes a moment and the impact for Ask an Atheist could be tremendous.
Also, it would really make the local fundamentalists angry if you did.
Voting for us easy!
1.) Vote Here! You don't need to be a Washingtonian to vote. All are eligible!
2.) It takes 30 seconds to vote, and you can instantly register through Facebook or Twitter.
3.) The winner will appear as a winner for 2-3 minutes on our local NBC affiliate. This sort of exposure is invaluable to the show and our atheist visibility movement.
4.) Our two biggest rivals are on major FM stations, and our winning would be a real upset. We need all the votes we can get!
5.) After you vote, Click Share on Facebook! Like us on StumbleUpon! Tweet us! Let's win this thing!
All are eligible to participate! Vote now!
(Original headline: Vote for "Ask an Atheist" for Best Local Podcast in the "Best of Western Washington" Awards!)